Testimonials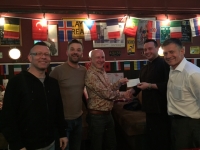 WHAT PEOPLE THINK ABOUT THIS FUNNY OLD GAME!!

Paul Rowbotham ( Spurs) Captain of the Winning Team 2015-16 " The Barbershop Quatrtet "
We are all over the moon to win this prize and look forward to defending our title successfully next season !
Great game , Great fun !!
Gema Edwards ( Arsenal) Current Champion 2015-16
"
I 've always enjoyed playing the game but last season to win it was AMAAAZING !!
"
Diane Rankin Current Champion 2013-14
"
It was a nail biting finish but I won the mooooney!!! I'll be back next year for sure to defend my title
"
Runner Up Matt Shipton Landlord of The Quiet Man in Hertford
"
Close but no cigar for me this season but not bad for a first time....I'll definitely be playing again this season and will get a Quiet Man team together and go for the Team prize too!
"
Neil " Razor " Spurs & Liverpool Leg End / Reality TV Star & Part Time Golf Bandit
"
I have played this game for a few seasons now and look forward to doing my " Ask Razor " Q & A's every year...not sure how I'm gonna top last year's video though
"